From New York, on the Sidelines of the 2023 SDG Summit, Maat Holds a Panel Discussion on the Right of Migrants and Displaced People in Countries of Conflict to Development
Okeil recommends integrating youth vision into peace and development processes, especially in areas of war and conflict
On the sidelines of the 2030 Sustainable Development Summit held at the United Nations Headquarters in New York under the auspices of the General Assembly, Maat for Peace, Development and Human Rights organized a panel discussion entitled "Towards Sustainable Development Goals... Building Bridges for Refugees and Migrants: a Case Study of Afghanistan and Sudan", to discuss the right of migrants and displaced people in countries of conflict to development.
This panel discussion is an outcome of the two-day activities carried out by Maat's delegation on the weekend days, 16-17 September 2023, inside the United Nations headquarters in New York, with the participation of a group of human rights and development experts.
The Session discussed the conditions of migrants and refugees in countries of conflict, and how much their development and human rights are impacted. The conditions of migrants in Sudan, especially their right to housing and decent life, were particularly focused on given the tragic conditions that Sudan has been living in since April 2023 until now. The critical conditions of Afghan migrants and refugees, particularly the right to security and the ability to move, especially in light of the current deteriorating political and security conditions there, were underlined.
The panel discussion touched on the role of the UNHCR in protecting refugees in countries of conflict and pointed out the difficulties facing the Office in protecting refugees and providing them with humanitarian assistance. The Session concluded by laying out a road map for ways to enhance the role of civil society in conflict countries in general, and Sudan and Afghanistan in particular.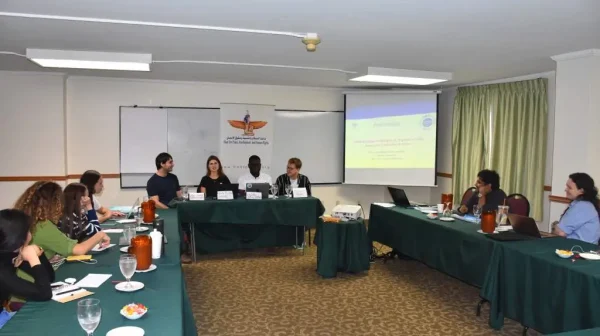 Ayman Okeil, an international human rights expert and Chairman of Maat for Peace, Development and Human Rights, stressed the importance of the event that represents the views of young people from 13 different countries, especially since it came in parallel with the weekend activities held at the UN headquarters in NYC, which considered the conditions of refugees in Sudan, South Sudan and a number of African countries of the Sahel region.
In the same context, Okeil stressed the importance of highlighting the views of young people, as they are better informed with knowledge on mobilizing individuals and resources to call for action to achieve real transformation, as well as ensuring the effective implementation of various government plans for sustainable development. Okeil, thus, recommended the need to integrate young people and enhance their role in peace and development processes, especially in areas of war and conflict, given the real and effective role they have in activating the sustainable development agenda at the national level.
It is worth noting that Maat is represented in New York by its delegation, consisting of 13 Asian, African and European young people, with a shared interest in sustainable development. The outputs of this participation is to organize events and meetings with international experts and diplomatic missions present in New York, among other objectives.