Somalia is the biggest evidence of the failure of the "Leave No One Behind You" strategy
Aqeel: Goal 16 cannot be achieved in the presence of countries that support terrorism
The Maat Foundation for Peace, Development and Human Rights is following with great sadness the terrorist events that took place in Somalia over the past twenty-four hours, which resulted in the killing of 26 people and the injury of about 56 people in a bombing that took place in a hotel in the coastal city of Kismayo, southern Somalia, by militants in the Al-Shabaab movement. A soldier and wounding five others in a suicide bombing targeting a café opposite the headquarters of the local administration in the city of Tusamrib, capital of Jammudug state in central Somalia. Somalia includes a large number of armed groups that are carrying out terrorist operations intensively, which leads to the loss of lives, the destruction of infrastructure and the denial of the Somali people of their basic rights such as the right to life and the right to development.
These events taking place in the State of Somalia come at a time when the countries of the world meet at the high-level political forum held in New York, which periodically reviews the implementation of the sustainable development goals in all countries, on top of which is Goal 16 on establishing peaceful societies, which led to the Maat Foundation shed light The light on the various challenges that African peoples face, on top of which is the challenge of terrorism and conflicts spreading in the continent, as the Maat Foundation has provided a number of interventions on the aggravation of the crisis of armed terrorist groups in Africa and thus the impossibility of talking about achieving development goals such as the goals of addressing climate change or achieving a work environment. Suitable or sustainable energy sources.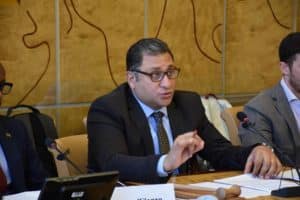 Ayman Akil, President of Maat Foundation for Peace and North Africa Coordinator in the Group of Major Organizations in Africa and member of the General Assembly of ECOSOC of the African Union, stressed the importance of Goal No. 16 on establishing peaceful societies and the need to give this goal the first priority so that peace is achieved, justice is spread, and strong institutions are supported, thus opening The field to achieve the rest of the seventeen development goals.